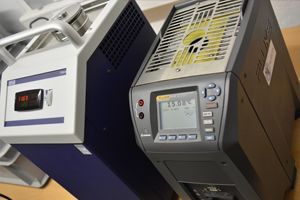 V&I solution can, in accordance with your needs, inspect and calibrate your measuring devices (pressure, temperature, spin-up test) or furnish qualified personnel to reinforce your staff.
Our services also include metrological testing and verification of manufacturing systems for the pharmaceutical, cosmetics and agri-food industries.
These interventions can be accomplished with our own certified measuring devices: dry bath, oil bath, PT 100 sounding, pressure calibration or by tachometer, or by utilizing your proper material allowing that said instrumentation is in accordance with your prerequisite.